---
In a round of "guess your favorite type of downtime", we'd put our money on you choosing scheduled downtime with proactive, asset protecting maintenance, over unscheduled, business disrupting downtime caused by equipment failures. But when it comes to your facility's productivity and your business' bottom line, where you put your money is what really matters.
Thermographic Imaging is a uniquely valuable tool in your efforts to make the best possible predictive/preventative maintenance investments. When performed at our highly trained level, the deployment of this technology is about as close to a 'trouble detector' as you can get. Like the crystal ball that you've always wished was really a thing, thermographics can detect imminent threats to your production of both electrical and mechanical origin. And while sometimes that is only a small part or circuit that's about to bring the gears to a halt, other times it is a vital key to an ongoing efficiency puzzle.
How It Works
Sophisticated infrared detecting cameras are used to determine temperature and thermal gradient, aka 'heat tracing'. The initial data from a baseline scan is interpreted by a skilled technician by considering an array of variables. The target object's composite material (emissivity), reflectivity, and the immediate (Thermal Background) environment and workload are all calibrated to produce the highest quality, actionable guidance possible.
Thermographic studies are performed while your facility is up and running, as inspections don't require direct contact with your machines. This yields the best data, with absolutely no reason to bring your production to a stop.
Examples
The pictures of this panel reveal how a Digitronik Thermography scan detected the installation of relays of the wrong amperage capacity, posing not only an efficiency and longevity issue but also a safety concern.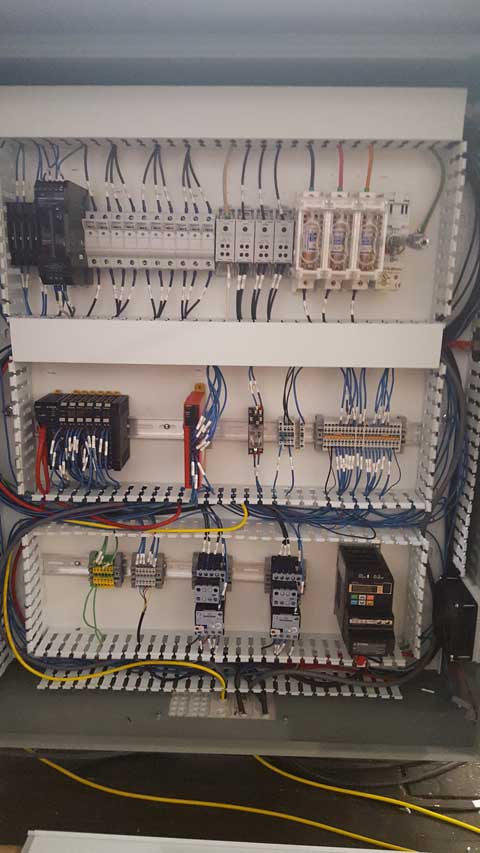 In the thermographic image above, our scans detected an abnormal 'hot spot' (182.2 F) as indicated by the Sp1 marking. The culprit was an errantly installed 1.2 amp relay, while panel specifications called for a 4 amp relay. Below is the corrected panel, and that hot spot has gone from approaching 200 degrees back down to effectively room temperature (77.6 F).
Next is an example of machine that passed inspection and was declared ready to ship and commision.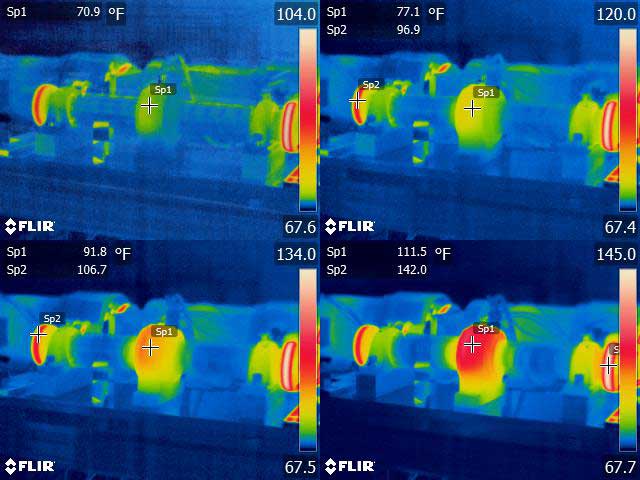 The above time-lapse scans show this coil straightening machine perform within a safe operating temperature. A valuable baseline has now been established for future inspections of an asset protection plan.
Below is a list of electrical and mechanical components that thermographic scans should be performed on:
Electrical
Switchboards
Panel boards
Panel boxes
Switch disconnects
Fuse disconnects
Fuse holders
Transformers, air and oil
PDU's
Bus duct
Cable terminations
Power Cabling
Neutral cabling
Batteries
Control panels
Mechanical
Pumps
Motors
Shaft couplings
Process Piping
Air duct blockage
Oil Cooling channels
Vent cooling
Our Expertise
Our company's founder, controls wizard and 'Robot Whisperer' Shawn Mott leads our thermographics division and is a Certified Electrical Thermographer via the Infrared Training Institute (Beaumont, TX).
Choosing Proactive vs. Reactive
We all know that getting your oil changed regularly for 39 bucks is a better plan than blowing your engine. Recent statistical analysis of predictive/preventive maintenance services in industrial applications have shown pretty spectacular results. Studies show that implementing proactive practices saves 40% over reacting to equipment failures, and that every dollar spent invested in improving equipment reliability yields a 5 to 10 dollar return to the bottom line. (Please ask us for our sources!)
Ready to get started?
We'd love to be able to answer your questions about issues that are unique to your operation. Please do let us know if you'd be interested in scheduling an initial visit to your site to learn more about how we can help your business!